(english below)
---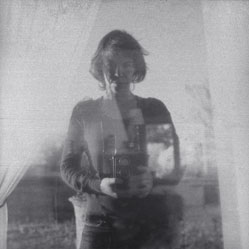 Née en 1979 dans le sud de la France, je vis et travaille à Toulouse.
Je photographie à l'argentique principalement, au numérique, en couleur, en noir et blanc, selon mon sujet. J'aime mes appareils photo. Je retouche très peu mes images.
Je photographie des objets, des lumières, des morceaux choisis. Dans la ville, sur les chemins. Des portraits, aussi, souvent coupés. Ma photographie est lente, rare et instinctive.
J'ai choisi de m'exprimer par le medium photographique pour montrer la grande beauté des petites simplicités.
Réaliser un projet me permet de prendre conscience de ce qui m'anime. C'est une révélation.
Le terminer me permet de passer à autre chose. C'est un soulagement.
L'exposer me permet de le faire vivre et de faire passer mes messages de douceur. C'est un cadeau.
J'aime faire rêver le spectateur, le calmer, voir apparaître son sourire et un soupir de paix.
Mes influences : Bernard Plossu, pour sa tendresse, son grain, sa désuétude apparente. Rinko Kawauchi, pour ses histoires faites d'un assemblage surprenant, la belle qualité de ses nombreux livres.
Graphiste depuis 2001, je consacre du temps à ma photographie depuis 2011. Je crée en 2008 un festival photo dans mon village audois (Ouverture le Vertmeilleux), mon envie et la décision d'en faire mon métier naît à ce moment là. Mes formations m'apprendront à forger mon écriture photographique, à en prendre compte, mettre des mots dessus.
J'ai depuis réalisé quelques séries (Silence, Passage, Tu m'es cerf), et l'Univers est ma dernière création.

---
Born 1979 in the South of France, I work and live in Toulouse.
I have been a graphic designer since 2001. In 2008, I created a photo festival in my little village, in the South of France (Ouverture le Vertmeilleux). My wish and the decision to live from my Photography started at that moment.
The workshops and classes I attended then, taught me how to build my own signature, how to go and deal with it.
Most of the time, I photograph with film, but also digital. In color or black and white, depending on the subject. I'm in love with my cameras.
I photograph objects, lights, chosen pieces, whether in the city or in the countryside. Also portraits, that I often cut. My Photography is slow, rare and intuitive. And poetic.
I choose to use that medium to show the great beauty of tiny simplicity.
Getting into a project makes me conscious of what is in me. It's a revelation. Ending it gets me going. It's a relief.
Showing it allows it to live and sends sweet messages. It's a gift.
I like to make people dream, calm down, and see their smile and peaceful breathing.
My influences are Bernard Plossu, for his kindness, his grain, his appearing simplicity. Also Rinko Kawauchi for her stories, made of a surprising mix of images and the beautiful quality of her numerous books.
Since then, I have made series (Silence, Deer to me, …), and "l'Univers" is my last creation.
---
Classes / Workshops
Since 2011
Workshop « Documentary photography » with VII Agency (Barcelona – Spain) Workshop « Personal project » with Claudine Doury (Paris – France) Workshop « Editing » with Dolores Marat (Toulouse – France)
Workshop « Portraits » with Serge Picard (Cahors – France)
Workshop « Landscape » with Laurent Gineste (Toulouse – France)
Weekly class « Personal research » (2 years) with Sylvie Fontayne, espace St Cyprien (Toulouse – France)
Weekly class with Jean-Luc Aribaud, espace St Cyprien (Toulouse – France)
Global design degree, ESIN Polycréa (Toulouse – France)

Exhibitions (since 2011)
"Deer to me" Projection at Co-incidences photographiques, Les Bains Révélateurs Gallery (Roubaix – France)
"Passage" Almanach (Toulouse), Etincelle Coworking (Toulouse – France)"
"Silence" book in Zines of the Zone's collection (Europe)
Zunzún gallery – projection and presentation of my work (Toulouse – France)
"Passage" Expo collective – Galerie du Chapeau Rouge (Toulouse – France)
"Silence" book at PhotobookFest (Paris – France)
"Silence" Festival Phot'Aix (Aix en Provence – France), Lulu Mirettes Gallery (Toulouse – France), Curuba (Barcelona – Spain), le Delicatessen (Toulouse – France), le Solilesse (Toulouse – France)
"iPolas" la Petite Gouaille (Toulouse), l'Almanach (Toulouse – France)
"Silence" Collective exhibition – Chapeau rouge Gallery (Toulouse – France)
"Hors Cadre" Collective exhibition (Cahors – France)
Cailhau village d'artistes (Aude – France) – 3 exhibitions / year.
Books (self edition)
L'Univers (2018), Deer to me (2015), Silence (2013)
Others
Since 2010 : Freelance photographer
2008-2012 : Fundator of the photo festival "Ouverture le Vertmeilleux" (Cailhau – France) Freelance graphic designer, www.hibiscous.com (Paris, Toulouse)
Since 2006 : Freelance graphic designer
2001-2006 : Junior designer in packaging, Team Créatif (Paris)
And also… Argentine tango dancer, graphic designer and teacher, active diy environnemental teacher, etc !